__________________
_________________
9. July 2010
Last update

TARZAN OF MIDNIGHT COLONY, CZ
Date of birth: Februray 24, 2004
Color: Black Classic Tabby (n 22)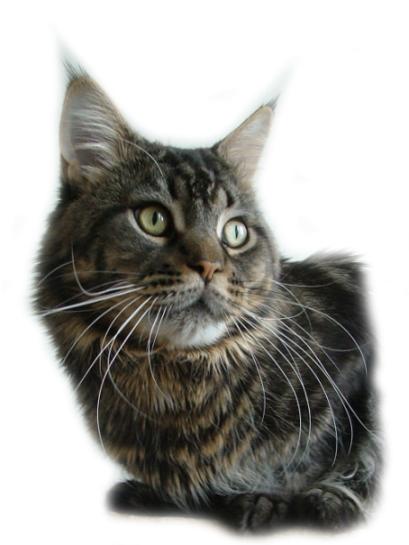 Tarzan, alias Taz/Tazik - a male cat with a beautiful "wild look".
He comes from a Czech cattery Midnight Colony,Cz from the best Polish, Danish, US and Austrian blood lines.
Tazik is a large stately tom-cat. Though, he retained a cuddly and amusing personality like a kitten. He loves to sleep in a lap - either ours or the visitor's, and he will not miss any meal course we are having, even though he is not a picky eater.

Negative tests for Felv and Fiv.
Weight at 4 years of age: 10kg/22 lb.

Pedigree:
EC Carter O'Connor
Alwaro* Pl
Red Classic Tabby


World Winner 02 EC
Sebasco's Daker De Vito
Red Classic Tabby

World Winner 01, 00, 98 EC
Guldfakse's Chief two Moons
Red Mackerel Tabby

DK* Moutainner's Kitti Caballe
Black Torbie Classic Tabby

A Cadia Park's Kerrygold
Black Torbie Classic Tabby

IC Coonquest Cisco
Creme Classic Tabby

IC Coonyham Napa of Dreamhunter Black Classic Tabby With White
IC Dona Diana Di Sidonia, A
Black Torbie With White

EC Squabby's Zyriak Tiger

Red Classic Tabby With White

Guldgakse's Naugautck
Black Classic Tabby

EU Groovycats Bony Maroney
Black Torbie Classic Tabby With White

GIC Cecile di Sidonia, A
Blue Solid

GIC Kiriakos di Meola A
Blue With White

EC Alessandra Di Sidonia A
Blue Classic Tabby With White